The Green Vegan – eco beauty tips
Posted on 11 April 2012
… a regular eco-friendly feature by Terri Morris
When walking through the cosmetics or toiletry section of any store one is bombarded with so many products, creams for every part of our body and other lotions and potions promising radiant beauty, but at what cost to the animals the products are tested on?
Remember, everything you use in the bath or shower goes into our water supply so the purer your body cleaning products are, the cheaper the cost and the lower the carbon foot print.
Here are some basic recipes that I have been using to get you started with some home made beauty products:
Body Scrubs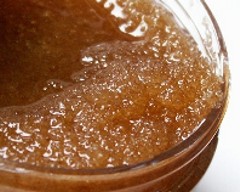 Salt scrub – Use a cup of coarse sea salt and add about a ½ cup of oil (olive, grape seed, jojoba, whatever you have) and if you want to make the scrub to smell heavenly add 2-3 drops of essential oil like lavender or ylang ylang. Scoop the mixture and scrub your skin, rinse and dry.
Sugar scrub – 2 cups sugar and 1 cup oil, mix the two together and scent with essential oils if you desire. To use, put some scrub on a face cloth and rub in circular motions wherever you need exfoliating and rinse. It is probably a bit much for a single body scrub so you can store in a jar. It might separate in storage so shake it well before your next scrub.
Face Scrubs
Bicarb Scrub – can be used daily. 2 tablespoons of baking soda and about the same amount of water. Mix together to form a paste and apply to your face in circular motions, rinse and pat dry.
Face Wash
Combine 100 ml of grape seed oil with 10 drops of lavender and 5 drops of geranium essential oils in a dark glass bottle; store in a cool dark place. When ready to use, put 1 teaspoon of sugar in the palm of your hand, shake the bottle and add the same amount of oil to the sugar. Mix, and use on your face in circular motions. Rinse with warm water and pat dry.
Skin Toner
Pour 1 cup of rose water (available at pharmacies) into a bottle and add 5 drops of lavender essential oil, 2 drops of rose geranium and 2 drops of ylang ylang and shake; allow to 'cure' for 24 hours before using. I like to use a pump bottle and spray on the toner and let it dry naturally, but you can use a cotton pad if you prefer. For mature or dry skin you can add 5 mls of glycerine or jojoba oil to the mixture.
More green tips coming soon.