The Green Vegan – eco cleaning tips
Posted on 16 December 2011
… a regular eco-friendly feature by Terri Morris
The modern mass produced cleaners available all use some variation of natural ingredients and scents; we all know the mint fresh or lemon scented stuff I'm talking about. The purer your cleaners are, the cheaper the cost and the lower the carbon foot print. And half the time they work better than the store-bought prepared products and most of the ingredients are already in your kitchen cupboard and are edible and non toxic.
Here are some tips and cleaning formulas to get you started:
Fresh Lemons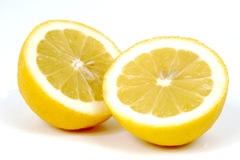 Aside from the normal culinary uses, lemons have many cleaning uses that can cut down on the use of chemicals in our homes. Try removing smells (garlic, onion) from knives and chopping boards by rubbing them with lemon peel. If your Tupperware has absorbed smells, fill them with warm water and some sliced lemon and leave to soak. Shine up your wok by boiling lemon peel in it.
You get the idea; next time you juice up fresh lemons, refrigerate the peels with pulp and use as needed.
Homemade household cleaners
Basic Shopping List:
Baking soda
White distilled vinegar
Tea tree oil
6 clean spray bottles
2 glass jars
Natural Creamy Scrubber:
Pour 1/2 cup of baking soda into a bowl, add a bit of liquid detergent and water to make it pasty. Apply with a sponge.
Works wonders on the bath tub and any other place you would use a cream type cleaner. If you have any left over, pour into a jar and add a bit of vegetable glycerine to the mixture to keep it moist and store in a dark place.
Window Cleaner:
Mix 2-3 tablespoons of vinegar with 2 cups some water in a spray bottle and shake.
Shake before spraying on the glass and wipe with a cloth or even newspaper. You may add 2 drops of tea tree or lavender essential oil to scent if you wish.
Spray Cleaner:
Combine ½ Tsp baking soda, a small squirt of liquid soap and 2 cups hot tap water in a spray bottle and shake until the washing soda has dissolved. Apply to surface and wipe off with a sponge or rag.
Tea Tree Mould Remover:
Combine 20-30 drops of tea tree oil soap and 2 cups of water in a spray bottle, shake to mix and spray on problem areas. Apply to surface and wipe off with a sponge or rag.
If the mould is heavy, you will need to scrub it off with a sponge scourer. Once removed, keep the spray bottle in the shower and spritz after each use as a preventative measure.
More green tips coming soon.