An interview with Rolene Sher
Posted on 18 November 2011
An interview with Rolene Sher of RAWlean …
By Antoinette Maake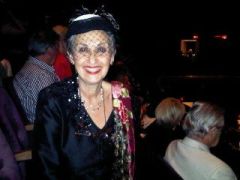 Vegan SA: Tell us about who you are and what you do?
Rolene Sher: I am International Motivational Speaker, run Personal Growth, Empowerment and Changed Management workshops for companies and the general public. I have also started running the RAWlean food preparation workshops. In these workshops we not only learn how to make exciting healthy and quick raw food dishes but also gain a deep understanding that we are connected, body mind heart and spirit and by taking it all into consideration we can truly make lasting life style changes. Educate people on how to take care of themselves and experience optimum health by making empowering lifestyle changes.
Vegan SA: When did you become a raw food vegan and why?
Rolene Sher: I became a raw food vegan 4 years ago when I was diagnosed with a very aggressive cancer and realised I really needed to make lasting changes in my life. Was very unhappy with dairy farming and after reading The China Study that was it for me.
Vegan SA: What are the differences between a normal vegan and a raw food vegan?
Rolene Sher: Interesting question. I think the answer is one eats cooked vegan food and the other raw vegan food.
Vegan SA: Tell us more about New Beginnings and RawLean
Rolene Sher: I am the founder and director of New Beginnings. I develop and delivers empowerment workshops, individual and corporate seminars that are taking the country by storm and achieving lasting results.
I am suited to this calling having spent my teenage and adult life pursuing education and experiences that empower and facilitate change in people. I have always been a gifted trainer, with my passion taking me to classrooms and boardrooms.
I am an accredited BOTA Trainer, accredited Journey Therapist, demartini and reiki therapist, and Life Line Councillor, and I have also devoted myself to studying and applying nutrition and wellness through "How to heal the Body though Food and Life Style Changes" meeting my incredible personal challenge of healing from breast cancer.
My vision is to touch peoples' lives and facilitate change in the world through enabling people to glimpse who they really are.
RAWlean is an exciting offering inspired by my own journey to vibrant health. The classes are for anyone who needs inspiration for making changes to their health and lifestyle, they are not just about food, they are about healthy sustainable life style changes, looking at all aspects of our life, body, mind, heart and soul. One of my favourite inspirational talks is about the "Gift of Cancer" – how to heal the body and go raw!
Vegan SA: Did the transition happen over night, or did you become a vegetarian first?
Rolene Sher: I had been a vegetarian for about 20 years and over the years on several occasions I found myself at different times eating fish and chicken. Once I was diagnoses with cancer I became 80% raw overnight.
Vegan SA: How strict are you as a raw food vegan, i.e. do you eat honey, wear leather; buy cruelty free products etc?
Rolene Sher: Yes I do eat honey and still wear leather. I'm ok with that right now.
Vegan SA: What is your favourite place for eating out?
Rolene Sher: Africa Cafe, The Mount Nelson will make you a wonderful raw food dinner if you give them 2 days notice. Absolutely amazing … and a few slices of avocado pear on top.
Vegan SA: What is your favourite meal? … and do you have a favourite recipe that we could publish on our site?
Rolene Sher: I love making soups for both summer and winter and of course smoothies in the summer are decadent. Favourite recipe is my 10 minute tomato soup which I'm about to go and make right now.
Vegan SA: What is your favourite place to shop for food?
Rolene Sher: Ethical Co op on the internet and Organic Zone and Wild Organics in Woodstock.
Vegan SA: What obstacles have you faced in the past, and continue to face, by being a raw food vegan? And how did you overcome them?
Rolene Sher: Often finding organic products is a problem so I started growing my own vegetables and you just have to shop around and see what you can get.
Vegan SA: What improvements or changes would you most like to see in the vegan movement, both domestically and internationally over the coming years?
Rolene Sher: Larger varieties of products, prices to come down so it's not so expensive and all the big supermarkets to have larger sections of organic foods available for everyone.
Vegan SA: What advice would you give to someone who is trying to make a shift to becoming a raw vegan?
Rolene Sher: Baby steps one thing at a time, set yourself up for success not failure by taking things slowly, Keep eating how you normally eat and just add more raw food on a daily or weekly basis.
Vegan SA: Is there any question that you would like to ask and respond to that we didn't ask you?
Rolene Sher: Just how important it is to prepare food with love, to sing and chant when preparing your food and to use the best quality products that are available.
For more information about Rolene and her workshops, visit: Rawlean .
Visit our website for a list of international and South African famous vegans.

Posted in Category
Interviews
/
Comments Off

on An interview with Rolene Sher
You can follow any responses to this entry through the
RSS 2.0
feed.