Kia Ora: Part 3
Posted on 4 October 2011
Rugby world Cup fever …
… the diary of a South African vegan living in New Zealand
4 October 2011
Rugby fever is running high in New Zealand, so I thought I'll write an extra post about the excitement. Although most of the attention is in Auckland – being the biggest city it also has the financial weight to have a number of large stadiums – the whole country is abuzz.
The crowds are sometimes surprisingly large. One reporter noted the block of South Africans when SA played against Namibia; a conservative estimate reckoned about 35,000 South Africans are living on the North Shore alone, which is less than 8 minutes' drive away from the stadium where that match was held, North Harbour stadium.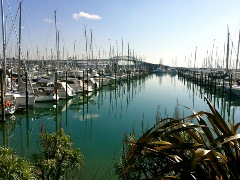 Even the small towns pulled out all the plugs to welcome the rugby teams, international visitors and local supporters alike. Unfortunately no matches could be held in Christchurch, with the uncertainty of any more earthquake shocks. Accommodations, cafés and restaurants were stretched to their limits in the smaller towns, while parking could be a headache in Auckland if one ventures in for an evening at the theatre! Public transport (buses, trains and even the ferries) made it easy for spectators to get to the matches on time.
Flags
Most cars proudly exhibit the team(s) they support. Why I say teams, is that this is a country consisting of mostly immigrants, so families would attach their original home country flag to their car windows (little flags attached to the back windows) and sometimes their new adopted country as well. Large flags could be seen attached to houses' or apartments' balconies and a neighbour near us would hoist 2 flags on the same pole, representing the 2 countries that are playing a match that day.
Something that was very successful was the Fan Walk. Thousands of people would dress up in the colours of their country (even with hair sprays, painted faces and body suits) and do the nearly 4 km guided walk through the city. Interesting buildings, historical sites and events would be pointed out. The large number of attending walkers behaved well, and were in very high spirits as the crowd formed groups walking, singing and dancing along.
Meals along Fan Walk
One can do the fan walk in stretches, resting and reposing along the way either on park benches enjoying a take-away snack or having a quick bite at a café. There are a number of very good vegan cafés and take-aways available. Near the waterfront for instance, are a number of ethnic eateries where one can sit down and enjoy the views over the water and the yachts: many of these places offer small meals (ideally to share around the table), so one doesn't feel too heavy and full for the walk ahead (which has some steep parts).
Near the city centre are some neat take-away salad bars with a range of mixed salads, grilled vegetable salads and also juice bars. Just a few blocks from Mount Eden Stadium is a chocolatier that even has 3 choices of filled vegan chocolates on offer. He proudly states that he also doesn't add extra sugar with the original couveture. The fan walk raises the spirits, is a great place to make friends and you don't even have to bring a torchlight: the clocks changed to summertime so it's light until well after the rugby matches start!
Next posting: Organic supermarkets and special superfoods.

Article by Laurinda Erasmus, author of BENESSERE well-being

: vegan & sugar-free eating for a healthy life-style. Quinoa Publishing.