Kia Ora: Part 2
Posted on 24 September 2011
Vegan Events, Exhibitions and Societies …
… the diary of a South African vegan living in New Zealand
22 September 2011
The socialising aspect of being vegan could be a posting by itself, but often vegans find themselves as the only members in their families following this diet. Feeling isolated, left out or even sometimes ostracised could cause feelings of loneliness or even bring on doubts about one's chosen life-style path.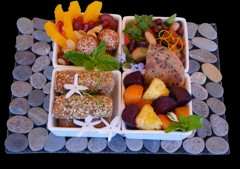 However, a few laughs and a gentle nudging to try some vegan dishes make everyone relax around the dinner table. There are in Auckland and other cities in New Zealand vegan societies where one can let your hair down completely!
Societies
The Vegan Society of Aoteroa

have a pot-luck every second month and the Raw Vegan Meet-up

have their pot-luck once a month. At both occasions one brings a dish with a description of it and attach a list with the main ingredients.
Dinner is then enjoyed in a fun, relaxing environment with lots of chatting, swopping out recipes and general networking. The locations are either at a dedicated hall; or sometimes held at a vegan café or even in a huge park in the summer months. I love the outdoors events, since the sun only sets around 9 o'clock in the summer. Sometimes there is a speaker about the vegan life-style; how to bring peacefulness into your life; how to live mindfully etc.
The Slow Food organisation of Auckland and Waitakere may sometimes offer a vegetarian, or sometimes completely vegan event. For instance, in May this year there was a Japanese cooking class (it was a fun hands-on cooking class where 5 of the 7 dishes were vegan, so the 4 in our vegan cooking group just 'veganized' the other dishes in order to join in); and in September this year an 8 course menu was on offer as a formal sit-down meal, called 'Tofu Zukushi'

. Both Japanese events were held in Silverdale, 15 minutes' drive north of Auckland.
The New Zealand Vegetarian Society

also offers events such as group visits to restaurants (I see from the details given that the meals turned out to be vegan and not vegetarian, but always rather ask), or watching a health-related movie together.
Exhibitions
There are some exciting exhibitions in New Zealand throughout the year, held mainly in the big cities (Auckland, Wellington and Christchurch). Every second year there is a vegan and vegetarian exhibition held at the show grounds (a one-day affair with about 50 exhibitors (including myself) with books, foods, cafés, speakers and food demonstrations. General food shows on the calendar are: Taste of Auckland (very few vegan choices, but ask that some of the dishes to be made vegan); and The Food Show (Auckland), where there is a good array of vegan foods available, as well as interesting teas from about 5 stands; olive and other oils; 100% juices such as pomegranate, blueberry, coconut water etc., Indian foods where there are vegan choices; spices and condiments; fresh herbs and organic foods; tofu and mock meats.
Another food exhibition where I also have a stand every year is at the Gluten-free & Allergy Show also held at the show grounds (Auckland, Wellington and Christchurch). It is held over 2 days, with a large number of exhibitors: the well-known organic shops; tofu products; nut, rice and soy milks; vegan chocolates and other healthy snacks (energy bars, sweets, toasted chickpeas, etc.); gluten-free cereals; sprouts etc.
The Green Living & Eco Show held at the race course in Auckland (2 days), have some exciting vegan stands: vegan cookbooks; cold-pressed oils and alcohol-free extracts; raw vegan foods; various raw cafés and cooking demos; nuts and seeds to buy; coconut products; organic tea and coffee etc. and the SPCA and environmental groups.
Reading
The above societies have newsletters and magazines with further info on products and health related issues. The Vegan magazine (from the Vegan Society Aoteroa): follow the 'media'

link on their website and click on V Magazine – Issues. The Raw Vegan Society has an informative newsletter, called Rawie. There are raw vegan recipes, organic gardening and social meetings (café meet-ups, cooking demos, talks), listed under 'events'.
In a subsequent article I will also talk about bookshops and where to get quality vegan and health orientated books.
Interestingly, other societies and groups in New Zealand that either promote a vegan diet or who are vegans themselves, are: The multiple-sclerosis Society, Greenpeace, SPCA anti-cruelty teams and Seventh Day Adventists.
Next posting: New Zealand rugby world cup fever.

Article by Laurinda Erasmus, author of BENESSERE well-being

: vegan & sugar-free eating for a healthy life-style. Quinoa Publishing.