Kia Ora: Part 1
Posted on 5 September 2011
The land of milk and honey …
… the diary of a South African vegan living in New Zealand
5 September 2011
I'm an ex-South African (from Pretoria) who moved to New Zealand 13 years ago – the land of milk and honey, literally.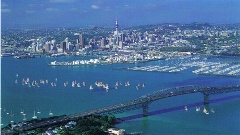 A huge proportion of New Zealand's exports rely on the primary sector (milk and milk products, meat, wool and, yes, honey too!). In fact, the dairy industry has become so profitable that many sheep farmers have now switched to cows.
Most dairy farmers in New Zealand belong to Fonterra, the huge dairy company co-operatively owned by 11 000 farmers (95% of the country's farmers) supplying over 14 billion litres of milk each year. Fonterra also puts millions of dollars into advertisement campaigns to push its dairy products.
By some incredibly clever marketing, New Zealand broke into the Japanese market (most Japanese don't like cheese, but by making it chocolate flavoured, the products are now flying off the shelves) and the Chinese market (where, ironically, most of the population is lactose intolerant and more than 30% of those have a dairy allergy!!)
The huge meat-eating culture here, as is in South Africa, Australia, Canada and the USA is ingrained into society (by habit; ease of getting food from supermarkets, restaurants, take-aways and social gatherings; traditional way of eating and lack of knowledge of protein sources). There used to be very little tolerance towards anyone wishing to eat differently.
Against this background, living in a country that not only relies heavily on the animal kingdom for food and clothing, any vegan requests were met with either a blank stare or slight bewilderment (at best) or one was simply denied alternative meal choices (at worst). I often had to walk out of restaurants.
This was 8 years ago when I had a long, hard look at my life-style and diet after yet another family member died of heart disease in South Africa. On one side of my family EVERYONE for the past 5 generations had and has diabetes type 2; on the other side of the family, high blood pressure, strokes and cancer run in a few generations. Both sides of the family, male and female, have heart disease (and 3 members have had their heart operations already).
Not wanting to go any of those scary disease routes – all of which can be fully preventable – I educated myself on alternative diets by reading, researching, going to seminars, attending vegan cooking courses and talking to vegetarians and vegans. I inevitably ended up at the vegan diet which is the most healthy way to eat for our bodies and the most sensible way of obtaining our food for the sake of our planet.
Things have slowly but surely started to change about 5 years ago, and suddenly in the last 2 years a number of vegan (or with vegan choices) restaurants, cafés and delis have opened up. To be vegan is thankfully not strange anymore; asking for vegan choices is now met with a list of dishes to choose from (or a willingness to change dishes). People are not shy anymore and whisper they are vegan – in fact, many establishments are proud to offer plant-based meals and dishes that are clearly labelled VEGAN, and not just vegetarian anymore.
I'll be writing regular postings about being a vegan in Auckland (specifically) or New Zealand (in general). There are societies, clubs, exhibitions and events to attend. The supermarkets, organic stores and delis that made it easy for us vegans I will list. I will also talk about restaurants, cafés and food stores that are vegan-friendly; the wonderful farmers' markets, and where to buy vegan home and personal products. There are also a handful of vegan and raw vegan cooking schools and lessons to attend, vegan bookshops and even vegan chocolates to buy!

Next posting: Vegan events, exhibitions and societies.
Article by Laurinda Erasmus, author of BENESSERE well-being

: vegan & sugar-free eating for a healthy life-style. Quinoa Publishing.