Radies and radishes: Part 28
Posted on 19 August 2011
Sayounara …
… the conclusion of the journal of a South African vegan in Japan
18 August 2011
This month marks 2 years since I embarked on my English-teaching adventures in Japan. I arrived during Osaka's hottest month of the year, and as I write this, a rattling air conditioner behind me and a fan at my left hand, it's sweltering once again. If it weren't for daydreams of delicious vegan food to keep me going, I'm sure I would have expired long ago.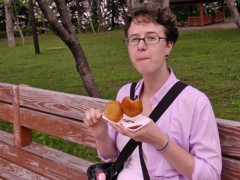 Ah, delicious vegan food. It's a topic close to my heart, in case you hadn't noticed (the entire blog being a subtle reminder). Over the past 2 years I've eaten many scrumptious and strange things, both at restaurants, some of which have sadly closed, and at home. Since this will be the last entry in my vegan blog, I thought I'd make some lists of the best and not-so-best foods I've discovered since I've been living here.
Scary foods
1. Goya

: While I am actually growing this, and it's supposed to be very good for blood sugar problems, I have not yet been able to get past its bitterness!
2. . Nattou

: Stinky, sticky, fermented soya beans. I was unable to swallow this stuff for almost 2 years, but something happened while I was at a hotel in Tokyo recently (nope, can't tell you – what happens in Tokyo, stays in Tokyo) and overnight I fell in love with it. I eat it almost every day now – nattou and brown rice for breakfast, nattou sushi … nattou, nattou, nattou! It's supposed to really good for you. I think that's because the stink scares most germs away. Most people, too.
3. Konnyaku

: a starch made from the Devil's Tongue plant. Really, the name speaks for itself.
4. Small birds' eggs

: No, they're not vegan, and nope, I haven't eaten these, and I don't plan to, but I see them at the supermarket, or served with lunch sets, all the time, and they make me sad.
Awesome foods
1. Tofu: Japan has the best tofu in the world! Except for maybe Korea and China …
Anyway if it weren't for tasty and cheap tofu, my muscles would have withered away by now.
2. Nattou: See above entry! It's so awesome, it made it into both columns.
3. Anko

: The deliciousness that results when you boil adzuki beans with huge amounts of sugar.
4. Japanese sweets

: Awesome, pretty, often vegan, super sweet sweets that go really well with powdered green tea. Many are made with anko. I eat them by the kilogram and then go to gym for several days.
5. Mochi

: Sticky rice dumpling-things that are excellent anywhere, anytime. I like them best served with warm anko soup in winter. In the picture of yours truly, you can see me chomping away at some potato mochi. And yes, it was delicious.
I'm planning on staying in Japan at least until next year August. So, there's still plenty of time to discover new strange and delectable edible things. And, since I recently received some rather strange medical advice, I have a lot of er, healthy eating to do.
Teachers at public schools generally receive a health check once a year. I had mine in July. The results came back with a note expressing concern at my very low cholesterol levels. The advice that came with it: eat fewer animal products. I must admit, I was a little confused.
On that note, I'll sign off. I could ramble on for pages, ambling down memory lane, but I doubt you'd keep scrolling. If you've made it this far though, thank you for reading my blog over the past couple of years! I hope I've made your mouth water enough that you come over to Japan someday to try some of the vegan offerings here. Admittedly, a vegan lifestyle here is far from easy, especially if you want to eat at mainstream restaurants, but if you ever visit I'll give you a few pointers and show you where to buy nattou. Let's raise awareness of animal-free diets one smelly old bean at a time (maybe you should smuggle a box or two of Fry's over, just in case).
Sayounara!

Posted in Category
Vegan Tales from Japan
/
Comments Off

on Radies and radishes: Part 28
You can follow any responses to this entry through the
RSS 2.0
feed.