Radies and radishes: Part 25
Posted on 17 March 2011
Becoming Indian
…the journal of a South African vegan in Japan by Carey Finn
9 March 2011
In my university days, my good friend, an Indian chap, always used to tell me that he saw me for what I really was – a large Indian man. While I appear to be a Caucasian female, my incredible appetite for Indian food apparently indicated otherwise. He used to feed me vegetable curries and rotis by the giant stainless-steel potload, and I did my best to expand into my Asian alter-ego.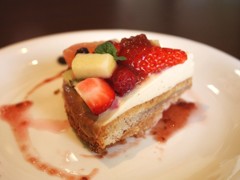 However, when I came to Japan, I lost touch with this inner self. The staple diet of miso, brown rice, tofu and veggies was light and healthy, but I lost about 4 kg. The portions here are rather small, and many people, vegans especially, find themselves hungry again just an hour or two after eating. The diet, combined with the active lifestyle, makes for some seriously skinny people. For a while, I was happy. Gaunt is chic, you know. But then one day, late last year, shortly before I went to Australia, my Indian self surfaced once again, demanding, quite simply, more food. So when I came across an Ayurvedic cookbook in Sydney, I decided it was time to make some dietary changes.
While the cookbook contains some recipes which call for eggs and milk, most of it is vegan, or can easily be made so. So the sidekick and I splashed out and bought 2 crates of spices, flours and other ingredients from an online Indian grocery last month, took a couple of tests to determine our predominant 'doshas' (there are 3 main types of bodies in Ayurveda – Vata, Pitta and Kapha) and got cooking.
Most of our meals now consist of a soup (broccoli, spring onion and sunflower seeds being my favourite), a dal or veggie side dish, and spiced basmati rice (cooked with cumin and mustard seeds). The food is meant to balance your body, and is usually easy to digest. It smells great when it's cooking, and thanks to the spices stacked on every possible surface in our kitchen, an awesome smell greets you when you open the front door to our flat. My inner Indian is pleased. My outer Caucasian too, as my bones are no longer showing on my chest. We still eat Japanese-style meals a couple of times a week – miso is even recommended in Ayurveda – but with more starch, to bulk them up.
Most of the recipes I used can be found on this website

.
So in my last blog, I mentioned new desserts in Kyoto. One of my favourite veggie restaurants, Café Proverbs, changes its menu according to the season, and last time we popped in, they had not only new soy milk pasta dishes, but some new cakes and tarts too. I tried this one (see photo). The verdict? Delicious, but it had that unfortunate taste – the one that tastes like more. At 500 Yen (about R40) a pop (reasonable for cake in Japan) though, you have to make one portion go a long, long way.
Next time: School camps and tropical islands.

Posted in Category
Vegan Tales from Japan
/
Comments Off

on Radies and radishes: Part 25
You can follow any responses to this entry through the
RSS 2.0
feed.