Radies and radishes: Part 24
Posted on 4 February 2011
Chicken drumsticks and pizza
…the journal of a South African vegan in Japan by Carey Finn
1 February 2011
Happy New Year to all our readers! My good wishes may seem rather belated, but since the Year of the Rabbit only officially begins in February in the East, I have a good excuse. I hope you all had yummy vegan food over the holidays – I know I did. And yes, I'm going to gloat about it in this blog entry, as usual. 😉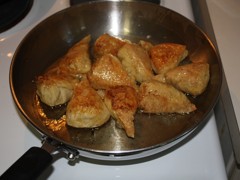 I was fortunate enough to spend Christmas in Sydney, Australia (thankfully, I was a good couple of hours south of the flooding). The first thing I did, besides hitting the beach, was stock up on vegan goodies from the supermarket. Creamy vanilla soya milk, fruit biscuit bars, Sweet William (fake chocolate – delicious though), Vegemite, breakfast muffins, rum and raisin truffles … the list was long, and my credit card under pressure.
Next, it was off to some vegan restaurants. I'd researched a few online before I left Japan – and one which had really taken my fancy was the cheekily-named coffee shop "Naked Espresso". I took a daytrip out to a hippy, Obs-like area called Newtown to check it out, but found the coffee shop closed for the holidays. However, there was a pizza restaurant which seemed to be sharing the premises. And a glance at the menu revealed at least 5 vegan pizza options – with cheese! I felt quite overwhelmed and started rattling the door.
The restaurant was closed until dinner time, but the waiting seemed agonising. I had waited for this moment for almost 6 years – but somehow, waiting another 6 hours seemed impossible. Luckily, I was saved by a vegan restaurant across the road. It was called 'Green', as far as I remember, and was an Asian place. They had a buffet lunch, with all sorts of Thai and Taiwanese dishes, and next door was a deli and vegan dessert shop. They had 4 kinds of brownies, gelato, cheesecakes, cupcakes and chocolates. A lot of it was gluten-free and raw, so there was no guilt to be felt.
I started with a lemon cheesecake – very light, very nice. I chased that with a fudge brownie – definitely not recommended for kids or people with sugar problems. Seriously. Once I'd recovered from that, I had a strawberry cupcake – with a cherry on top. Eating it was, quite honestly, a transcendental experience.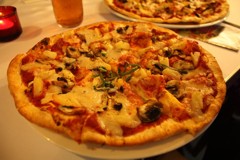 After walking off all of that, it was time for pizza. To make up for all the dry years, I ordered the largest size, with extra cheese. The other toppings were tomato, eggplant and artichoke hearts – and possibly some olives – I can't remember. I was too enraptured by the cheese. That meal alone was worth the flight to Australia.
Nothing could beat that dinner, but one other meal did come close. While at the vegan deli, I picked up some frozen veggie meats – 'smoked ham' and 'chicken drumsticks'. It's that Asian stuff – ingenious, but possibly made from genetically-modified soy. Anyway, the ham was really rich and good – but the drumsticks were the best. Not only did they have a realistic texture, but they even had 'bones'! Inside were those flat wooden sticks, the kind you get in ice cream lollies. Quirky, but it made the meal all the more enjoyable.
I came back to Japan feeling full, and satisfied – with enough reserves to last out the winter.
Next time: Ayurvedic experiments in the kitchen, and new desserts in Kyoto.

Posted in Category
Vegan Tales from Japan
/
Comments Off

on Radies and radishes: Part 24
You can follow any responses to this entry through the
RSS 2.0
feed.