An interview with the Fry's Vegetarian family
Posted on 10 February 2011
An interview with the Fry's family, leaders in the South African vegetarian food market …
By Antoinette Maake
Vegan SA: Tell us about who you are and what you do?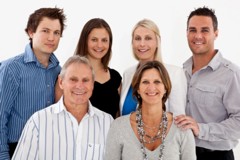 Fry's: We are a company that produces a range of vegan meat analogues in a dedicated vegan factory.
Vegan SA: What is history behind the Fry's group?
Fry's: Wally Fry was not born a vegetarian. In fact, he was an avid meat eater, believing animal protein was essential for good health. His wife, Debbie and daughter, Tammy were born vegetarians. When Debbie and Tammy continually refused to eat meat, Wally started questioning his own need for meat. Wally owned a construction company and was commissioned to build mass producing chicken farms – this was his turning point and he too became a vegetarian.
It was at that point that Wally and Debbie began experimenting with protein alternatives for their own consumption. Just 1 year later, these ideas formed the foundation that would lead to the establishment of Fry Group Foods.
Vegan SA: Tell us about the Meat Free Mondays campaign.
Fry's: Tammy Fry (Marketing Director of Fry's and passionate environmentalist), wanted to sponsor a campaign in South Africa where the public could be educated about the negative impact that animal agriculture is having on our environment and a campaign which gave the public an achievable and simple solution. We launched a national radio campaign in June which stated some shocking facts and urged the public to adopt Meat Free Mondays within their family units, schools and companies. The success of the campaign has been phenomenal.
Vegan SA: Any plans on switching to Veganism?
Fry's: Definitely. We are mostly vegan at home but it becomes very difficult when we travel as much as we do. Part of the work we do is educate service industry outlets about veganism and try to get them to cater properly for vegans and vegetarians. We actually own our own commercial 5 star, Big 5 eco lodge (Nambiti Plains) that does cater for vegans, so it's always a treat when we go there for holidays!
Vegan SA: How strict are you as a vegetarian, e.g. do you wear leather or buy cruelty free products etc?
Fry's: We are very strict vegetarians, we research everything we buy and ensure that it is cruelty free in every way.
Vegan SA: What is your favourite place for eating out?
Fry's: Little India in Durban – great Indian cuisine!!
Vegan SA: What is your favourite meal?
Fry's: We are big wrap fans (See the Fry's Veggie Wraps recipe).
Vegan SA: What is your favourite place to shop for food?
Fry's: Woolworths and Everfresh (the best you can get in Durbs!)
Vegan SA: What obstacles have you faced in the past, and continue to face, by being vegatarian? And how did you overcome them?
Fry's: I don't think there have been any obstacles; an obstacle can only be viewed negatively if that's the way you view it. I try to find the positive and potential in obstacles and then move forward, e.g. it has always been difficult finding great high protein vegetarian options. So Fry's embarked on a project to ensure vegetarian options on every menu/canteen/takeway in South Africa. We have had some excellent successes and Fry's is now available on the Spur, Subway, Steers, Kauai, Boost, and Ninos menus, as well as hundreds of canteens, hotels and schools!
Vegan SA: What does the future hold for Fry's?
Fry's: We hope to increase our vegan offerings … watch this space!
For Fry's recipes, news and product launches, log onto www.frysvegetarian.co.za

and sign up for their newsletter.
Visit www.supportmfm.co.za

to pledge your support for Meat Free Mondays.
Visit our website for information on famous South African vegans.

Posted in Category
Interviews
/
Comments Off

on An interview with the Fry's Vegetarian family
You can follow any responses to this entry through the
RSS 2.0
feed.