An interview with 5FM's Grant Nash
Posted on 24 February 2011
An interview with the Grant Nash from South African radio's 5FM station …
By Antoinette Maake
Vegan SA: Tell us about who you are and what you do?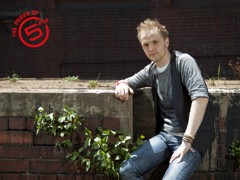 Grant Nash: 50% of the Grant and Anele Radio Show on 5FM from 12h00 – 15h00, weekday afternoons.
Vegan SA: When did you become a Vegan and why?
Grant Nash: Early January 2010. I was a vegetarian for a little while before that. I had been thinking about giving up meat for many years. It was a humane spiritual choice. I'm a vegan for compassionate, environmental and health reasons.
Vegan SA: Did the transition happen over night, or did you become a vegetarian first?
Grant Nash: Once you become vegetarian and you make the decision that sentient animals are not 'ours' to abuse and murder to sustain ourselves, and you begin to read just a little about the dairy and egg industries, I don't think you are left with much of a choice. Dairy farms and hatcheries account for some of the very worst animal abuse and torture.
Vegan SA: How strict are you as a vegan, i.e. do you eat honey, wear leather; buy cruelty free products etc?
Grant Nash: I'm the whole hog … I believe animals are not resources. So all of my food and clothes are plant based. My cleaning products are NOT and were never tested on animals. My personal hygiene products are also all plant based and never tested on animals.
Vegan SA: What is your favourite place for eating out?
Grant Nash: I love Vietnamese food. Cranks in Rosebank is a great place. I also love Fresh Earth in Emmerentia and Greenside Cafe in Greenside. Both are amazing veggie places to eat out.
Vegan SA: What is your favourite meal? … and do you have a favourite recipe that we could publish on our site?
Grant Nash: Ahhh on Sunday myself and my housemates made vegan Ice-Cream (recipe: vegan chocolate chip ice cream). So it's not my recipe and I hope Mr Del Torro won't mind me sharing. BUT I JUST HAVE TO … better than any Choc Chip Ice-cream I have ever had.
Vegan SA: What is your favourite place to shop for food?
Grant Nash: I have a local grocer that I love to source fresh fruit and veggies from . Other than that, all our supermarkets are great. Plus 'Fresh Earth' in Emmerentia for the difficult to find vegan goodies like arrowroot.
My hygiene products from the Body Shop and Woolies, and I have to tell you about my favourite shampoo in the world. 'Pureology' 100% vegan, available at all good salons.
Vegan SA: What obstacles have you faced in the past, and continue to face, by being vegan? And how did you overcome them?
Grant Nash: I think you simply have to be aware of your body's requirements and know that you can't go out and have a salad and expect to get your body's nutritional needs. I also travel around the country pretty much every weekend and snacking, unless you carry your own dried fruit, nuts and seeds, is nearly impossible.
Vegan SA: What improvements or changes would you most like to see in the vegan movement, both domestically and internationally over the coming years?
Grant Nash: I would love to be able to sit at most restaurants and have at least one vegan choice that's not a salad. Vegan food is imaginative. It can be so delicious, hearty and extremely healthy. There is no excuse for any establishment, fine-dining or easy dining, not to have at least one vegan choice. This will also give our meat-eating friends an opportunity to taste the goodness that vegan food can be.
For further reading, please visit our list of famous vegans.

Posted in Category
Interviews
/
Comments Off

on An interview with 5FM's Grant Nash
You can follow any responses to this entry through the
RSS 2.0
feed.