Review: A Japanese Un-cooking vegan class
Posted on 7 February 2011
By Satya Bhat
Being a vegan myself for just 3 years and vegetarian for 13 years, I am used to eating food that is cooked and has spices. But since October 2010, attending the Vegan Society South Africa's functions and meeting other vegans, opened a whole new door to the World of FOOD. I have been exploring tastes of other cultures so yesterday (26 January 2011) I went to a Japanese UN-Cooking class conducted by Brittany Kesselman. I have heard so much about her and her raw vegan cookery classes for months now from friends and I just had to see what she was all about.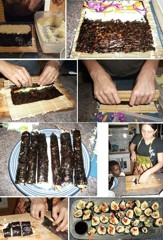 I was quite sceptical as everything would be raw, yet excited to try something new. The menu included; Sushi, Teriyaki Vegetables and Green Tea Ice-cream. I thought: raw vegan sushi? Is sushi not normally made with rice? How would we make it? Parsnips … words cannot describe it! But let me try. Brittany made magic – converting simple to amazing! My absolute favourite: Sushi and the Green Tea Ice-cream! YUM is an understatement.
6 ladies attended the class and left with amazement at the new flavours and with new friendships. I had the fortunate opportunity to taste Brittany's Coconut Ice-cream which was not part of the class. It is vegan but not raw. This was the winner to my heart! It had a smooth creamy texture. My craze for sweetness caused over indulgence in probably half a kg of ice-cream. BUT certainly no regrets at all! Because it was full of nature's goodness, free from artificial chemicals and processed foods and unknown ingredients. My mind was in peace.
If you love food, love to eat and love your health then Brittany's JOZI (UN) cooked: A Raw and Vegan Food Company

is a MUST! Brittany's next class will be on Thai flavours. She also takes orders for Raw Tuesdays and supplies some of her foods at selected food stores. With her natural curiousness for flavours, she is making new creations. She makes a superb cashew nut cheese which I have yet to taste. For her latest updates and recipes stay posted on her website.
Some insight in to Brittany's cooking:
"I have been vegan for 17 years. I became vegan for ethical reasons, though I believe I have stayed vegan for a combination of ethical, environmental and health reasons.
I became interested in cooking when I became vegan since I suddenly needed to worry about feeding myself; the rest of my family wasn't even vegetarian. Since then I have become more and more interested in the many different cuisines of the world and have experimented a lot with cooking. I have been working with raw food for just over a year now. I am mostly self-trained, though I did spend a month training in the kitchen of Pure Food and Wine, a gourmet raw restaurant in New York.
When I make raw food, all of the ingredients are completely natural, plant-based ingredients."
External link: Jozi (Un)cooked