Radies and radishes: Part 23
Posted on 19 December 2010
A vegan Xmas meet – minus the Tofurkey
…the journal of a South African vegan in Japan by Carey Finn
18 December 2010
Christmas in Japan feels more like a promotional campaign at a mall than a festive holiday with religious significance (albeit vague). Supermarkets switch their monotonous regular background music to monotonous Christmas music; city trees are decked out with 'irumanashion' and people buy huge packs of sweets, boxed German cakes, beer and gift boxes of soya sauce. Actually now that I think about it, it's exactly like Christmas in South Africa (except for the soya sauce).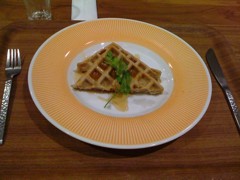 Most people here traditionally work on Christmas Eve, and then go out cruising for a date. Apparently it's the most profitable night of the year for love hotels. Anyway, the Kansai vegan meet-up group decided to celebrate the festive season slightly differently, with a lunch near Nigawa Station (somewhere on one of the Hankyu train lines). The meet-up was at Hassel House, the same little café where I'd first attended one of the vegan gatherings. We each paid ¥2600 (roughly R200 – but divide that by 3 for an accurate price) to cover costs, and the group organizer provided most of the food herself – kudos to her for cooking!
We tucked into deep-fried gluten meat, lotus root with some tasty sauce, fresh garden salad, mini burdock and carrot wraps and 2 types of bread – sourdough and crusty white – both of course, lard-free! Dessert was courtesy of a group member – homemade coconut pudding-cake (it was more like a fridge-tart than a cake, rather hard to define) with pumpkin cream on the side. It was very rich but went down a treat with the Japanese herbal tea.
After lunch, we lounged around bloated, chatting about vegan sources of B12 in Japan (I suggested chlorella tablets) and recipes. Then someone suggested a second dessert. We all mustered our strength and staggered to our feet, heading a couple of stops down the train line to Nishinomiya Mall; which I have to say, is definitely the most Western-looking mall I've seen in Japan. We went to a place called 'In the Room', a macrobiotic café where pretty much everything was for sale. Luckily no one snapped up my dining chair while I was there and I was able to finish my set of 'overnight' brown rice waffles and maple syrup, in peace.
They were sold out of most sweets and their soy ice cream by the time we arrived, but I hear that the ice cream in particular is delicious. The café unfortunately will be closing down on the 26th though, so Japanese readers – get there in time! South African readers too – Japan is only a plane trip away, you know …
Happy Christmas to you all. Mata ne!
Next time: Funky Pies and Naked Espressos in Sydney.

Posted in Category
Vegan Tales from Japan
/
Comments Off

on Radies and radishes: Part 23
You can follow any responses to this entry through the
RSS 2.0
feed.