Radies and Radishes: Part 22
Posted on 5 December 2010
Travelling lard
…the journal of a South African vegan in Japan by Carey Finn
2 December 2010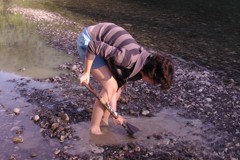 Despite my perpetual criticism of cities, I've got to admit that, in Japan at least, they make vegan living that much easier. And by "that", I mean actually possible.
Recently, the sidekick and I took a drive down into south-central Wakayama prefecture. It's known for its spiritual pilgrimage routes through misty mountains, and stuff like that. All the lush vegetation, rivers without concrete banks, temples and hot springs make it a nice getaway from Osaka – and it's only half a day's drive or train ride. We went to a tiny town comprised of hot spring hotels; estimated permanent population – 50. Number of restaurants: 1. Number of shops: 0.
Why did we choose this bustling metropolis, you ask? Because the river, which the town is built alongside, is known for its natural hot springs. You can dig your own mini onsen in the riverbed, for free, and then soak in it as you watch the waters flow by. This was a very cool idea. However, scheduling our trip on the same day as a typhoon, was not a very cool idea. When it eventually had passed, and the river had returned to some sense of normalcy, we dug ourselves volcanically hot baths and relaxed, taking care not to end up like the squirrels in that opening scene of Dante's Peak.
But what does this have to do with veganism in Japan? Well, since we stayed 2 nights, we had to eat while we were there. The veggie sushi, fruit and potato chips we'd brought along lasted all of an hour, and then it was time to chow down in the little hotel we were staying at. Japanese hotels usually serve a traditional meal, comprising several small dishes. Since we'd asked for vegetarian, they served us rice, pickles, wild mushrooms, tofu and a delicious mountain vegetable nabe (type of stew). You cook this yourself.
My sidekick fired up her burner and started stirring her veggies, only to find a small white block of something floating in the middle. "What's this," she asked, poking at it. "Tofu?" I suggested. But it was not tofu. It was not a vegetable, or paneer, either. There was only one thing it could have been, and that's lard. Yum yum! We carefully removed it and left it with the pigeon egg we'd been given.
Random lumps of fat aside, there are 2 other things vegans have to be wary of when eating at Japanese hotels. Often, when we book accommodation in rural areas, they are reluctant to feed us unless we are ok with fish stock (dashi) being used in the miso soup, and ok with vegetable tempura (which sometimes has egg in the batter). Not exactly vegan, but if you say it's ok, you can usually avoid those dishes when mealtime arrives. Otherwise, your best bet is to book without meals (which is inconvenient, but it can save you a chunk of cash) and bring a boot-load of pre-cooked food with you.
One last note about lard. The sidekick and I have taken to eaten at Indian restaurants quite often these days, as they have extensive vegetarian sections on their menus. We'd been asking what's in the curries and the nan, of course, and had been happily munching away, until our knowledgeable friend informed us that the Indian restaurants too, were probably using lard. So with an awful sinking feeling, we had to ask. Luckily, our local joint proved lard-free. Phew. But lard really is the shiz here – you can even buy tubes of it at the supermarket. Yum yum!
Next time: A Christmas vegan meet!

Posted in Category
Vegan Tales from Japan
/
Comments Off

on Radies and Radishes: Part 22
You can follow any responses to this entry through the
RSS 2.0
feed.