Radies and Radishes: Part 21
Posted on 19 October 2010
A ravenous mob of vegetarians
…the journal of a South African vegan in Japan by Carey Finn
18 October 2010
Yes! After an inexcusable absence (involving me doing nasty administrative things like acquiring Japanese driving licences), I am back with more veggie tales from the Orient. The biggest thing to report on is the Kyoto Vegetarian Festival, which is held every year in early October. This was my second time at the fest, and once again, it was awesome.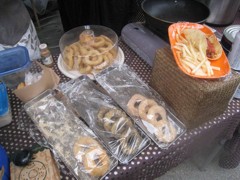 It was held in Okazaki Park, near the Heian Shrine (very big and touristy spot) in Kyoto. A ravenous mob of vegetarians, including yours truly, descended on the park to spend their savings on things like: vegan donuts (which I mentioned last time, but put off hunting for until the weather cooled down), tacos and chips, veggie pork burgers, falafels, Thai green or yellow curries (with Phuket lager – yum), muffins, cupcakes, large cakes, vegan biltong, raw food snack bars, dates (which cost around R30 each – eek), Chinese dumplings, spling lolls (or maybe it's spring rolls – my English is deteriorating), salads, strawberry smoothies and shaved ice treats, fudge and much, much more.
There seemed to be more main courses on offer this year, which was nice, since eating sweet stuff all afternoon tends to take its toll on the blood sugar levels! A lot of veggie restaurants represented with stalls where you could sample their menus, albeit for a slighter higher price. There were also organic goods on sale, like flour and pasta, as well as fresh farm produce – I horrified the Japanese by chomping down a raw carrot – and walking around while doing so!
There were booths trying to educate people about fur, animal testing, factory farming, and other issues. It was painful to walk by and see the pictures but, at the same time, essential to have these materials to open eyes. There was also a booth where they screened movies like Behind the Mask and The Cove.
The only complaint I had was that it rained all afternoon – and my umbrella was in Osaka! For one thing, the free kundalini yoga was cancelled, and it also sure made things difficult for the performers on the open air stage! I probably could have bought a cheap raincoat or umbrella or something, but that would have meant going without some tasty treat, so I arrived home looking like a drowned rat, but a very bloated and content one.
Next time: Indian food, how cow flesh is considered a vegetable in Japan, and more.

Posted in Category
Vegan Tales from Japan
/
Comments Off

on Radies and Radishes: Part 21
You can follow any responses to this entry through the
RSS 2.0
feed.