Bheki Khoza, vegan jazz musician
Posted on 14 September 2010
An interview with South African vegan and jazz guitarist, Bheki Khoza …
By Antoinette Maake
Vegan SA: Tell us about who you are and what you do?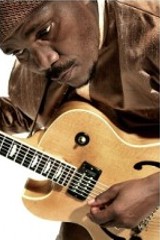 Bheki Khoza: I am a musician, composer, educator and producer.
Vegan SA: When did you become a vegan and why?
Bheki Khoza: About 15 years ago. I am affiliated to African Hebrew Israelites.
Vegan SA: Did the transition happen overnight, or did you become a vegetarian first?
Bheki Khoza: A few years before I had been vegetarian but as I learned more especially in the scriptures, I then graduated to Veganism.
Vegan SA: How strict are you as a vegan i.e. Do you eat honey? Wear leather; buy cruelty free products etc?
Bheki Khoza: I do not consume meat or meat by products.
Vegan SA: What is your favourite place for eating out?
Bheki Khoza: In Johannesburg, in Emmerantia at Fresh Earth, Bryanston at Fruits and Roots I also do Indian restaurants.
Vegan SA: What is your favourite meal?
Bheki Khoza: Spiced Tofu Salad, Matamata Mushroom, Shepherd's Pie.
Vegan SA: What is your favourite place to shop for food?
Bheki Khoza: Woolworths, especially on the organic side. Chinese Supermarkets for Tofu products.
Vegan SA: What obstacles have you faced in the past, and continue to face, by being vegan? And how did you overcome them?
Bheki Khoza: Very few people in the society understand vegan diets so one has to do a lot of explanation if food is to be prepared outside one's family. Travelling by air one has had to know the vegan code in order to be served and you have to remember to call 72 hours before the flight.
Vegan SA: What improvements or changes would you most like to see in the Vegan movement, both domestically and internationally over the coming years?
Bheki Khoza: It takes sometime to find places to shop for vegan food, and that can discourage some people who are making a transition. There is a need for enlightening people in general about healthy eating even at governmental level. I had a great wedding where strictly vegan meals and organic wines were served even the music was healthy selected. I dream of a music festival with only vegan products.
You can read more about Bheki Khoza on his website www.bhekikhoza.com.
Visit our list of famous vegans – South African and elsewhere in the world.

Posted in Category
Interviews
/
Comments Off

on Bheki Khoza, vegan jazz musician
You can follow any responses to this entry through the
RSS 2.0
feed.