Radies and Radishes: Part 20
Posted on 29 August 2010
O-kaeri! Special South African Edition
…the journal of a South African vegan in Japan by Carey Finn
28 August 2010
In mid-July, I was lucky enough to come home to Cape Town for 3 weeks. Although the World Cup had wound down a week before I arrived, there was still a buzz in the air, and restaurants hadn't changed their prices back to something locals could afford (not sure if they even plan to).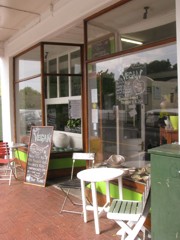 Having been away for a year, there were 2 things I really, really wanted to do in the Mother City: see 'my' animals, and eat. I'll spare you the soppy details of the former, and just blog about the eating part.
I won't write about how I forked out R33 for a hot chocolate with soya milk at a certain establishment in Rondebosch (*cough cough*, Cocoa Wah Wah). Paying R7 for a soy option there was nearly as horrifying as Kauai's newly 'reformed' menu, replete with 1 vegan option. Talk about token. Thank goodness for the 2 great new vegan restaurants that have opened.
Closer
This bright, funky little spot officially opened at the beginning of August, but I was able to sneak in my o-kaeri ('welcome back') lunch party in July. Michelle Verwey and her team served up baskets of warm breads, pita and dips as a starter, following that with home-made root vegetable soup and more delicious breads. There were lemon cupcakes for dessert but, by that stage, most people had stuffed themselves into a coma-like state – which just meant more for me!
Closer is on Palmer Road in Muizenberg, in between other small, cool shops. The area has an 'Obsy' feel to it. The café does great (fair-trade) coffees and teas, not to mention cakes – and a bunch of meals. Warm oats with almonds and maple syrup for breakfast sound good? I thought so. Check the place out on Facebook and in real life, too.
Bella Vegan
If you're in Simonstown, I recommend stopping by Bella Vegan. It's just opposite the tourist info centre on the main road, and has lumo green walls – you can't miss it. Jen and her team serve up dirt-cheap, delicious chow (I don't think anything on their menu was as much as that traumatic hot chocolate I mentioned earlier). I tried a papaya smoothie, which was a really happy-looking drink, and surprisingly filling! Of course, I also tried several other things too, including a sweet potato pie (with salad) and savoury pancakes.
The main meals and desserts change daily. You may be lucky enough to tuck into a slice of double cinnamon and apple pie or a double chocolate cupcake, both served with cream, depending on which day you pop in. I say play it safe and pop in every day … Except Mondays, when they're closed.
Now, I'm back in the land of the rising, blazing, unbearable sun … already missing the cool weather and all the vegan goodies you can get in Cape Town. Cheese … jelly tots … sniff. Not to mention the soya milk tart at Wellness Warehouse – go try it so that they keep making it and I can eat it again next year August!
Next time: A perilous quest for vegan donuts in weather that curdles even long-life soya milk.

Posted in Category
Vegan Tales from Japan
/
Comments Off

on Radies and Radishes: Part 20
You can follow any responses to this entry through the
RSS 2.0
feed.