Radies and Radishes: Part 19
Posted on 17 July 2010
Brown rice harmony
…the journal of a South African vegan in Japan by Carey Finn
15 July 2010
As usual, it's been a while since I've posted an update on my adventures in Japan. You probably suspected I'd OD'ed on the condensed milk – and I won't lie, it was close – but I survived to wrap up Year 1 in Osaka.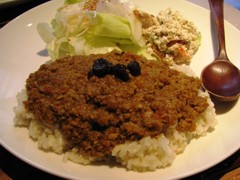 This past month, a lot has happened. First, the rainy season arrived, then my veggie garden threatened to float away. The humidity levels passed 100%. I stopped functioning during the day and only managed to make it to school by strapping an electric fan to my left foot and dragging it along behind me.
In actual vegan news, I visited a lovely little restaurant in Minamikata, a couple of stations north of Osaka City. The place is called Genmai Harmony, which means Brown Rice Harmony. It's a stone's throw from the train station, which is very convenient, but there's very little English, which is not so convenient! However, we managed to order the house veggie curry, which was served with a couple of salads and a variation of miso soup. We felt all harmonic until we found out that the cakes were sold out, but a cup of genki ('energy') tea restored the mood. I couldn't decipher exactly what was in it, but I suspect ginger and a variety of Chinese herbs. On the way out, we picked up an order form for organic veggies, which are grown on a nearby-ish farm, by the owner's connections.
Raku's rebirth
As you know, my favourite vegan restaurant in Osaka closed down in May. The owner, Sano-san, has been working at his friend's new restaurant (not veggie) in south Osaka, and has started reopening Raku there on Saturday evenings. He's held 2 'bossa nova' gigs so far, serving up his trademark Brazilian fejwada, curry, salad and a new addition of falafel with deep-friend wheat meat. The restaurant is bigger than the old premises and has draft beer on tap – a leftover from the place's izakaya ('pub') days. So far the support has been good so, provided that his next few gigs are successful, he is planning to open Raku 2.0 more regularly, from September.
Curry in Den-Den Town
Meanwhile, short of decent veggie places in convenient locations, my posse have had to find alternative grub joints to meet up. Sano-san showed me an Indian restaurant in Nipponbashi, the Akihibara area of Osaka. It's known for its maid cafes, toy stores, electronic stores, porn and strangely-clad characters. Just past a horrific pet shop (which I have been complaining about for an entire year, with little response), is a curry place run by real Indians. Usually, curry in Japan resembles curry, but that's where the similarities end. But this stuff is the real deal, with even the 'mild' powerful enough to make grown men cry.
While not a vegetarian restaurant, they offer a lot of veggie dishes, which can easily be made vegan. Good prices, hot spices and gigantic nans have made me a fan of their dinner sets – samoosas, salad, a big plate of curry (I recommend the "green peace" one) and nan, plus chai tea to settle your stomach. They show Indian hip-hop videos and they sell Bollywood movies. What more could you want?
Next time: Carey goes home: a special South African edition!

Posted in Category
Vegan Tales from Japan
/
Comments Off

on Radies and Radishes: Part 19
You can follow any responses to this entry through the
RSS 2.0
feed.