The Kind Life – a vegan book by Alicia Silverstone
Posted on 10 June 2010
… Review by Mark Scheepers
In this unique and informative book, actress and activist Silverstone details the process that led her to choose a vegan lifestyle. She also lays bare the different factors that played a role in her decision, from the abhorrent 'farming' methods in factory farms in America, the impact of the animal industry on our world and the inherent advantages to eating a plant based diet.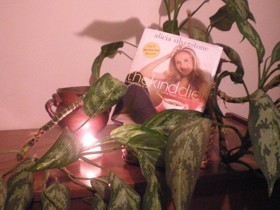 She tackles many of the myths and misnomers we as a society have been fed regarding the importance of meat and dairy in our diet. Silverstone effectively deconstructs the publicity machine that led to society adopting the belief that animal products are an essential part of the human diet and provides readily available alternative sources for the nutrients we've come to believe can only be found in animal products, like calcium and protein.
She is completely honest in her account of living as a vegan and being an activist, as well as her struggle to find suitable food sources. This trend has changed dramatically in the US as more people are being conscientized to ask where their food is coming from and to demand alternative choices for those who opt not to support the inhumanity and cruelty of the animal farming industry. Unfortunately we are sorely behind in this regard in South Africa and the search to find a few of the products she refers to in the book continues.
What sets her book apart from others in the industry is her dedicated section of delicious and easy to prepare recipes, from soups and snacks to yummy deserts. This book thoroughly debunks the idea that a diet free of meat means dreary eating choices. Instead of a take-no-prisoners approach, Silverstone has allowed people to come to veganism in a relaxed and natural way. This is done by dividing the book into sections which allows readers to 'flirt' with veganism by having a number of animal product free meals a week, and either stay there or progress to being a fully fledged vegan or the ultimate ideal – a 'superhero' which is a vegan diet that incorporates the best eating principals of macrobiotics. It is the diet that Silverstone herself follows and the one she credits with her abundant energy and a clear complexion after being plagued by acne well into her twenties.
This book is an absolute must for anyone even contemplating switching to a cruelty free lifestyle and that is where the book gets its title from, Silverstone's philosophy of living a life that is kind to the world, yourself and your body, is a truly remarkable and inspiring one.
The Kind Life: Rodale Press – R260.91, available at Kalahari.net