Radies and radishes: Part 18
Posted on 27 June 2010
Heaven is a can of condensed milk
… the journal of a South African vegan in Japan by Carey Finn
22 June 2010
2 exciting things happened recently. One was the discovery of a great veggie café in Kyoto. The other was the arrival of a box of indulgence from Vegan Perfection. But if I open that up now, you won't get through the whole blog, you'll be tracking me down to raid my cupboards! So, first things first…
Ping Pang!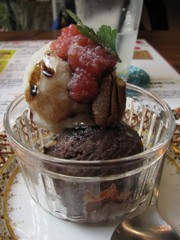 Ping Pang Café is a neo-hippie restaurant in Kyoto's Kitayama area. We stumbled upon it while taking 2 tiny kittens to their new home. I blogged about the heartbreaking number of stray cats and dogs in Japan earlier; unfortunately, the situation hasn't gotten any better since then. Japan Cat Network

tries to trap, neuter and release, or home, as many cats as they can. But their task is a mammoth one, so we've started helping them out by fostering a few kittens. Their shelter also has limited space, so they are always looking for people who can take kitties temporarily.
Anyway, we were taking Atticus and Lizzie to their new home, when we happened to pass Ping Pang. It was open and smelled inviting so, after dropping off the kittens, we popped in for a bite to eat. The menu was vegan with the exception of a token free-range chicken 'taco'. The food is all very wholesome. The restaurant is part of an 'outdoor fitness' studio where you can do yoga and trail-type training, so it has that fit and healthy vibe about it.
I ordered a brown rice burger, which was interesting. The 'bun' was made of, yep, you guessed it, compacted rice, and the filling was sliced organic veggies. I washed it down with a glass of masala ginger beer, which I highly recommend you try at home. Dessert was 2 kinds of cake and ice cream, the latter of which was meant to be shared … so much for that! My vegan sidekicks are sneaky sometimes. At least I got a photograph.
Ping Pang isn't cheap, and the stools and tables are high enough that death by chocolate mousse takes on a whole new meaning, but it's a nice little spot that I would definitely visit again.
Perfectly vegan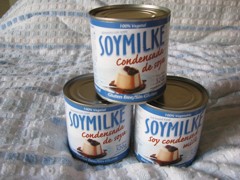 How many of you miss condensed milk? Well, I sure did, until 5 tins arrived last week. It's been 5 years since that sweet, gooey goodness (also known as "diabetes in a can") passed my lips. 5 long, lonely years …
But now, thanks to Australian vegan goodies distributor Vegan Perfection

, the exile is over. They sell a range of vegan sweets and other essentials, importing from all over the world. They mostly distribute to Ozzies, but if you ask them nicely, they'll ship to you – maybe even to SA. They shipped a small box over to Japan for us, which was super-exciting … except that the postage cost more than the goodies. Obviously, they couldn't ship veggie meats or cheeses, but condensed milk was good enough.
I drank half of the first holy tin, and then attempted to make peanut butter fudge with the rest. It ended up being peanut butter sludge, but it still tasted good. So what else was in the box? There were (note, were) wine gums, fudge, dark chocolate nougat, organic mint chocolate, rice milk white chocolate (WHITE CHOCOLATE!), parmesan cheese and packs of soya whipping cream. The downside is that, since the products originated in South America, Europe and England, the box's carbon footprint was sky-high. But since I am now too broke to go anywhere for the rest of the month, I will be staying in and fattening myself up on sugary goodness, so hopefully it will all balance out.
Next time: Raku 2.0, brown rice harmony, curry in Animeland and more.

Posted in Category
Vegan Tales from Japan
/
Comments Off

on Radies and radishes: Part 18
You can follow any responses to this entry through the
RSS 2.0
feed.