Radies and radishes: Part 17
Posted on 2 June 2010
Comings and goings
… the journal of a South African vegan in Japan by Carey Finn
2 June 2010
I really miss the vegan potlucks in Cape Town. All that good grub and company does wonders to one's mood and stomach! It's been more than a year since I attended a potluck so when the opportunity arose to go to a Japanese version, I leapt at it.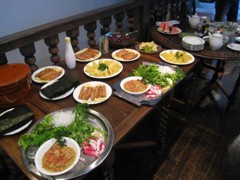 On Sunday 23rd May, the Kansai Vegan Meetup Group held a late spring lunch in Takarazuka, Hyogo Prefecture. To translate, that's about an hour by train from Osaka. We gathered at a lovely little cafe called Hassel House, which was all old, dark wood, fresh garden herbs and huge canvases of Irish landscapes. The sweet old Japanese owner spoke fluent English and told us that not only had she painted the artworks in the cafe, but that she would soon be returning to Ireland in search of new scenery to portray.
About 10 people attended, half of them foreigners and half Japanese. A vegetarian dog was revealed to be the official leader of the meet-up group, but she seemed more interested in the food than her administrative duties. I didn't blame her, the food was great. We all shared a finger lunch of homegrown greens, fresh peas, potatoes, veggie fish fingers, crackers, fruit and red bean paste tea sweets, with minty herbal tea. Although it was pouring with rain outside, the atmosphere inside was warm and relaxing.
This Saturday past saw me at another vegan gathering, but sadly, this one was a sayounara party for Raku Café (downtown Osaka). In the past 10 months, I've become good friends with the owner, Sano-san, and spent many evenings chatting to him in the cosy little vegan organic restaurant. Unfortunately, like many veggie restaurants in Osaka, Raku's finances went into the red, and Sano-san was forced to close his doors. But he did so with a bang. Word was spread, and the little café was filled to capacity, with not a stool left open on Saturday evening.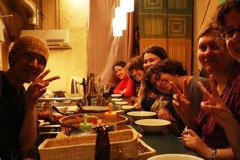 There were some old and some new faces but we all toasted to the good memories and to Sano-san's future. He had some good news, informing us that Raku would be reopening in a different area (Shin-Imamiya) towards the end of June. However, as Sano-san will be sharing premises, Raku will only be open on weekend nights for the time being. But, as everyone agreed, it's an exciting new start. Little by little?or chotto zutsu, as they say here.
The last supper at Raku was a buffet of organic salad, Brazilian fejwada, curry and brown rice, with tofu cheesecake, chocolate brownies and ginger snaps for dessert. Everyone helped clear out the remaining juice, organic German ales and spirits in the place, and the party went on till past 11. Laugh not, that's quite something by Japanese standards, considering the trains stop running at midnight.
Next time: Ping-pang discovery! What is it? Find out in Entry #18.

Posted in Category
Vegan Tales from Japan
/
Comments Off

on Radies and radishes: Part 17
You can follow any responses to this entry through the
RSS 2.0
feed.