Radies and radishes: Part 16
Posted on 25 May 2010
Vegan birthdays are best
… the journal of a South African vegan in Japan by Carey Finn
24 May 2010
Every part of Japan is famous for something – be it peanuts, potatoes, a 120m Buddha statue, or wild pig (the dead kind). Osaka is no exception, with travellers from all over trying takoyaki (deep-fried octopus dumplings) and okonomiyaki (a type of omelette made by pouring batter over small pieces of vegetables, cow, pig and fish).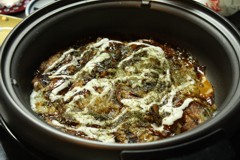 Both of these delicacies of death are sold on almost every street corner in the city, and they are especially popular at festivals. You can even make your own okonomiyaki at special restaurants. I just figured that was one aspect of Japanese culture that I'd never experience. But then, my Japanese friends had a special dinner party for my birthday.
The starters were homemade pickled bamboo (a spring dish) and gyouza (those Chinese dumplings I mentioned), both of which were delicious. And the main course was vegan okonomiyaki – cooked at the table! My Japanese friends, being vegan residents of Osaka, were able to skillet a special variation of the dish. They used fleshy mushrooms instead of bacon, and mixed them up with various veggies for the filling. Instead of using fish flakes and sauce to finish the dish, they topped it with special vegan dashi (a stock usually made from fish and found in almost everything), a sticky sauce and mayonnaise. It was love at first bite, the rich, warm taste was simply heaven. It was great to have something fatty and solid, instead of simply noodles in broth?or rice-based dishes for a change; so great, in fact, that I ate 5 helpings.
As a birthday gift, they gave me a few vegan snacks including a tub of Tofutti cream cheese from America (bought on a business trip). I remember reading about Tofutti in Peta's magazines as a teenager, and always wished they would bring it over to South Africa. So I was pretty excited to have the chance to try it at last. It turned out to be a nice and smooth cream cheese that gave life to the plastic cake bread over here. It was a treat, but overall, compared to Sheese, it ranks about the same in taste and texture.
A little while after the Tofutti was finished (around the beginning of May), there was a vegan festival in Kyoto. Last year, I checked out a vegetarian festival there which was 90% vegan anyway. But this one was fully, and officially, 100% vegan. Alas, I did not attend, as I was on a road trip north, to Ibaraki-ken (home to that 120m Buddha statue, by the way), but I heard good reports from those who went. It's great to know that there is enough support for these events to stage them.
While I didn't get to try all the tasty food at the festival, I did find a great vegan restaurant in Ibaraki's Tsukuba City, a university town in the middle of nowhere. Ritz'n, the restaurant, is open on every public holiday, which is excellent! Many other restaurants were closed for the duration of Golden Week, Japan's week of national holidays (the period over which I did the road trip).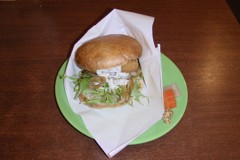 At Ritz'n, I had yummy tempeh burgers on homemade rolls, several wholesome lunch sets comprising organic brown rice, soups, nattou pasta, stewed gluten meat and salads, muffins for snacks, and a small slice of dark chocolate gateaux. The pasta was surprisingly tasty – nattou, the slimy fermented soy beans I blogged about at the beginning of my Japan adventures, actually went really well in the pasta sauce. Maybe it was because it was organic and homemade, but there was none of the usual slimy, snotty texture, just a nice smoky taste. Anyway, I went to Ritz'n rather a lot.
At the adjacent deli, I was able to find up a bag of fresh dates and I literally danced for joy. In the 10 months I have been in Japan, I had had the grand total of ONE date. So being able to munch through an entire bag was an almost religious experience. It brought tears to my eyes. Next time you fill up a bag of medjool dates at Fruit and Veg, don't take a single one of them for granted! Think of all the deprived vegans in other parts of the world (i.e. Japan) and how much money you could make by sending them to us! (Message me for my postal address).
Next time: A vegan gathering, and Raku Café: death and rebirth.

Posted in Category
Vegan Tales from Japan
/
Comments Off

on Radies and radishes: Part 16
You can follow any responses to this entry through the
RSS 2.0
feed.