Radies and radishes: Part 15
Posted on 30 April 2010
A ? Kyoto
… the (long-overdue) journal of a South African vegan in Japan by Carey Finn
29 April 2010
The first Sunday of April saw us taking a leisurely stroll along a small stream in Kyoto. We pottered and pondered along a trail aptly named The Philosopher's Walk, appreciating the cherry blossoms, then in full bloom, their reflection on the water, and all of the finer points in life … along with about a million other pushing and prodding people.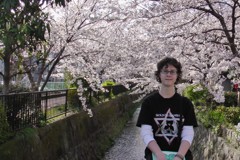 The Philosopher's Walk, with its hundreds of big old ornamental sakura trees, is, as it turns out, one of the most popular spots for cherry blossom viewing in Kyoto. Which also makes it one of the most stressful parts to navigate at that time of year. Fortunately, we were prepared for the crowds.
Our resident expert on all things vegan in Japan, a video game design student/cat trapper/secret agent (did I not promise mystery in my last entry?), had taken us first to a café by the name of Akateletecobe Sovesahva

(which was apparently the name made up by their kid).
My first impression of the restaurant, with its wooden table and small flower garden, (complete with family set of gumboots) was that it was very homely. I remarked as much to said expert, who wryly informed me that the café, was in fact, a home. The family open their house on the first Sunday of the month, serving whatever dishes they fancy. This time, they made delicious vegan pizza, with home-made animal-free cheese. Seriously. It was tough, but I resisted the temptation to raid the kitchen of all said pizza, and after just 2 slices, allowed myself to be guided to the next stop on our tour.
Our next destination, just 10 minutes away, was Café Proverbs

. I'd already eaten there once before, shortly after arriving in Japan. I was well ready for Round 2. For starters, we shared some gyoza (Chinese dumpling things) and then waited impatiently for the mains to arrive. My choice was soymilk ramen, and it provided a near spiritual experience (I suspect that's why they named the café as they did).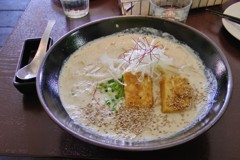 This was my first time eating ramen (traditional thick noodles) in Japan, as most ramen soup contains cow extract or other not-so-delightful additions that render it un-veggie friendly. The addition of soymilk to ramen is apparently a Café Proverb specialty – a bestseller at both their Tokyo and Kyoto restaurants. As unusual as it sounds, the combination of milk and ramen results in a creamy soup of noodles, to which they add some tofu and shiitake mushrooms for good measure. If you're ever in Kyoto, I highly recommend it. For dessert, I ordered dark chocolate and maple syrup cake. Enough said, I think.
After our double warm-up, we were ready to walk. And walk we did – all the way along the Philosopher's Walk, until enough room had been made for that most civilised of British traditions, afternoon tea. At that point, we veered off to a place called Kairas; a rustic café with a heavy wooden interior and sophisticated but hippy vibe that would work well as a country farm stall. Here, there was soya hot chocolate, cookies, custard cone treats (with smiley face biscuits) and … parfait to be had. Real parfait. The stuff of my dreams. Except with bitter citrus called buntan. Which was not so good. But the ice cream and biscuit parts were awesome.
With all that said (and eaten), I'm sure I don't need to explain further why it is that I ? Kyoto.

Next time: Osakan okonomiyaki, Tofutti and a vegan festival.

Posted in Category
Vegan Tales from Japan
/
Comments Off

on Radies and radishes: Part 15
You can follow any responses to this entry through the
RSS 2.0
feed.