Radies and radishes: Part 14
Posted on 6 April 2010
A taste of Tokyo
… the journal of a South African vegan in Japan by Carey Finn
4 April 2010
Spring break has been and gone; with snow, cherry blossoms and a whole lot of sweets. A friend has been visiting from South Africa, so we've been travelling around like crazy, trying to squeeze in as much of the Kansai region as possible. While the Japanese teachers took a whopping 3 days off school, I managed to wrangle an entire week (shock), giving us enough time to check out some early blossoms in the mountains of southern Nara, give free hugs to random people in Kobe, and take in a whirlwind tour of Tokyo.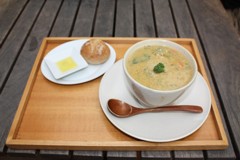 As a vegan, no matter the route you're travelling, eating on the road is never easy. Here, your dinner options are generally limited to rice balls, plain rice, or rice crackers. So we usually prepare a couple of 'Ziplock' boxes of sandwiches and such to take with, but they don't last more than a day – either getting eaten, or going off.
Luckily, to celebrate sakura season, shops around Japan are selling cherry blossom snacks, ranging from gooey tea sweets (made with kanten, which we know as agar) to deep-fried cherry blossom-flavoured rice cakes and more. So, this time, while we may have put ourselves at risk of diabetes, road tripping was a lot more satisfying than usual.
While our experience driving around Japan was sugary and slightly scary, eating in Tokyo was like entering a vegan fantasy world – from our base in Shinjuku, there were 5 fully vegan restaurants within 20 minutes' walk! When we had lunch in Shibuya, we had a choice of more than 7 places to chow down.
In the shock of it all, I left my Vegan Restaurant Pocket Guide in my bag, in a coin locker … and could only remember one of the restaurants … making our choice easy. We ate at Brown Rice Café

, a trendy little whole food spot in the larney Omotesando Hills area (near Harajuku and all its costumed characters). It had a sophisticated atmosphere, and prices to match, but the food was simple and delicious. We had vegetable soup and freshly-baked soya milk rolls, and a cherry blossom and green tea muffin from the adjacent deli for dessert.
For dinner, a friend took us to a fast food joint called Freshness Burger, which had 2 veggie options on its menu – a tofu burger, and a giant mushroom burger. Both were under 500 Yen, which is unheard of for grub in Japan, unless you're eating at McDonalds. I tried the tofu burger, with potato wedges, and it went down a treat. My only complaint is that it was a bit on the small side – so next time I'll be ordering 2. I found out that there is another Freshness Burger just 2 stations away from my pad in Osaka, so I'll be dropping by soon.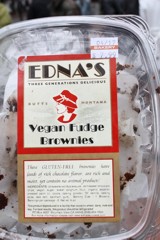 Visits from friends and travels aside, the most exciting thing that has happened to me in the past month was a present I received from a Japanese friend. He and his wife are awesome vegan punks. He recently went to America on a business trip, and brought back Vegan Fudge Brownies and Apple Streudel for me as souvenirs. They were decadently delicious … so much so that they brought tears to my eyes. I ate them too fast to take a picture, but the packing looked like this.
All I can say is … to all the vegans in America; you lucky bastards.
Next time: Something mysterious to spice things up.

Posted in Category
Vegan Tales from Japan
/
Comments Off

on Radies and radishes: Part 14
You can follow any responses to this entry through the
RSS 2.0
feed.