MuLondon's new range of vegan skin creams
Posted on 3 April 2010
Hello South Africa – London calling! My name is Boris and I'd like to share some skin care tips with you and tell you a bit about my range of 100% vegan, preservative-free organic moisturisers that I make by hand in London, UK. You will also have the chance to win one of my products.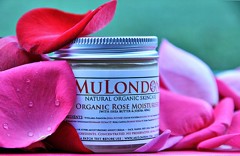 I started making my own skin and body care products many years ago. I got dry skin and I wanted an effective, natural moisturiser that was not full of nasty stuff that I could not even pronounce. As I have been a vegetarian and then vegan for many years, I was reading the ingredients listings on everything. When I saw that most moisturisers were full of things like petroleum products, lanolin, parabens, stabilisers, emulsifiers and artificial colours and fragrances, I had to find out more – and that's how my journey to starting my own line of personal care products started. I founded MuLondon

based on my ethos that I would never use any animal ingredients, chemical preservatives or additives in any of my products.
I base all my creams on certified organic Shea Butter, golden Jojoba oil and natural herbal extracts and essential oils. All are made by myself, in small batches. I believe that skincare products can be fully natural and as such even more effective than the mainstream products. Shea Butter and Jojoba are readily absorbed by the skin, while petroleum products like mineral oils are known to be comedogenic, which means they will clog your pores, not allowing your skin to breathe. In addition to that, research studies at Uppsala University in Sweden have shown that using mineral oils may pose other long-term health issues, so you can understand that I am not a fan of this ingredient. "Mineral Oil" sounds almost like it's full of natural mineral goodness – and that's what they would want you to believe, but it's far from the truth.
MuLondon moisturisers are super-concentrated, as they contain no added water. That means that instead of getting only about the normal 20% active ingredients, MuLondon moisturisers are made from 100% active ingredients. That is also why you need only a tiny amount, best applied to moist skin. If your skin feels greasy after application – you have used too much! MuLondon moisturisers are superb for dry and sensitive skin, and for all-over body use.
But healthy skin is not just about using good skin cream. I believe that getting some sun every day is good for your skin. It can be a challenge for us in the UK, but should be fairly easy for you in South Africa. Ten to fifteen minutes every day should be sufficient for most of us. Getting some sun on a regular basis is not only good for you skin, but it helps us vegans generate the all-so-important vitamin D, that is often lacking in vegan diets.
What's more, Beauty comes from within – and I am a firm believer of that. Think beautiful thoughts and you will be beautiful. There is another way to get beauty from within – ensure your diet is rich in essential fatty acids. Hemp seed oil and Flax seed oil are great and tasty vegan sources of Omega-3 and Omega-6.
Do you have any natural skin care tips? I'd love to hear them! Please leave your comments below for a chance to win one of my moisturisers. Have a look at my website and also let me and the Vegan SA team know which one of my moisturisers you'd like to win. The winner will be chosen on the 15th of May 2010.
All MuLondon products

are registered by The Vegan Society UK and PETA. I ship worldwide and I'd also like to offer all visitors and members of the VeganSA.com website and blog a 15% discount off their first order. Simply type VEGANSA in the coupon box during checkout to get your discount. This is only available to readers of this blog and for shipping to South Africa and will expire on the 15th of May 2010.
I look forward to hearing your feedback – and I hope to use some of South Africa's wonderful essential oils like Cape Chamomile and Cape May in my upcoming products.
Thank you!
Boris – founder and head cream-whipper, MuLondon